The Space Coast Parrot Head Club is a social organization with a community service heart. While 'we are the people your parents warned you about', we are PHriends and PHamily. When you join our PHlock, you become part of an international organization known as Parrot Heads in Paradise, Inc. Throughout the world, parrot head clubs provide a PHun atmosphere for their 'PHlockers' and a chance to help others through community service projects.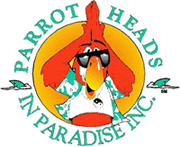 Your membership also provides you with the opportunity to participate in the 'Meeting of the Minds', the international convention of parrotheads held in November of each year. The 'Meeting of the Minds' is a 4-day event filled with music and PHun and is held in Key West, Florida.
​
Annual dues for the Space Coast Parrothead Club are only $25.00 per person, with keets under 18 having PHree membership. Renewals are $20.00 per person annually. Paid memberships entitle the new member to official club parrotphranalia, membership in PHiP, Inc., and information regarding local and national events related to the parrothead world. Please join us every month at our Phlockings on the third Thursday of the month at Pineda Inn from 5pm-9pm. Here we socialize, have dinner and initiate new members to the club. At that time the new members get 'lei'd' and receive their 'hangy-thingy'. To join, click on the 'JOIN ON-LINE' or 'JOIN/RENEWAL APPLICATION', print it out and mail it in with a check to address on the application. More information is to be had by clicking on "WELCOME LETTER & STUFF YOU NEED TO KNOW". See you at the next PHlocking!
Current members may renew online, by mail, or face to face.
​
New members may click the JOIN ON-LINE button above or download and fill out the application and either mail it in, or hand deliver it a PHlocking. Applications are normally available at PHlocking, also.
Lovely Cruise
-
Jimmy Buffett